---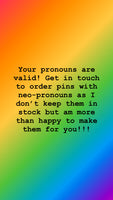 Xe/Xir/Xim/Ze/Zim/Zir/Fae/Faer/literally anything AS LONG AS IT'S A PRONOUN. Leave a "note to seller" or shoot me an email to let me know your pronoun and colour choice.
I don't make these for anything other than pronouns. No hobbies or other things you say you "identify" as. This is because I believe it belittles true gender identity language.
Pronoun pins are 5cm in diameter and made from various acrylics and sometimes timber. 
Silver coloured roll clasp pin on reverse
$2.50 from the sale of each pin goes to South Australian grassroots queer youth organisations.
Using correct pronouns saves lives. Show your support today.